ESIL Symposium: 50th Anniversary of the Adoption of the ICCPR and the ICESCR, Zurich, April 2016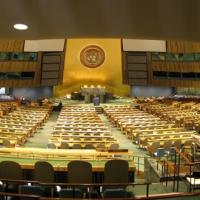 50th Anniversary of the Adoption of the ICCPR and the ICESCR
Symposium organised by the Institute for Public International Law of the University of Zurich and the European Society of International Law
Venue: University of Zurich
Dates: 14-15 April 2016
On 16 December 2016 it will be 50 years since the UN General Assembly adopted the two human rights covenants, the International Covenant on Civil and Political Rights (ICCPR) and the International Covenant on Economic, Social and Cultural Rights (ICESCR). The Institute for Public International Law of the University of Zurich, together with the European Society of International Law, will use this historic date as an opportunity to organise a symposium devoted to the two human rights covenants.
The conference will reflect on what the covenants have achieved in the years that have passed, to examine their current influence in the various regions of the world, and to assess their role for the future. 
Registration deadline: extended until 11 April 2016.
FURTHER INFORMATION AND REGISTRATION  
(Image by Nick Corble, Creative Commons licence)