Call for Papers: The Law & Practice of International Courts and Tribunal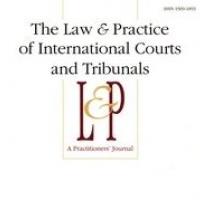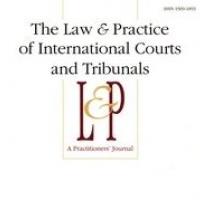 Special Issue on
THE DUTIES, RIGHTS AND POWERS OF INTERNATIONAL ARBITRATORS
This special issue of the journal The Law & Practice of International Courts
and Tribunals focuses on the duties, rights and powers of international arbitrators in
investment arbitration disputes. According to a well-known saying, the three key
elements of international arbitration are "arbitrator, arbitrator and arbitrator." The
exercise of the professional activity of international arbitrators, who are the real soul of
the contemporary ISDS system, poses many challenges. For example, the legal
relationship of arbitrators to the parties, especially to the one which appoints them, is
controversial and questioned.
Under the direction of Dr. Horacio Grigera Naón, American University
Washington College of Law, and the guest editors are organizing an international
conference that will take place on September 19th, 2017 at the Washington College of
Law. Accepted papers will be presented in this forum. Paper presenters will receive
comments on their papers from key speakers, scholars attending the conference,
prominent international lawyers, and guest editors. Selected speakers are expected to bear
the costs of their own travel and accommodation.
For this call for papers for the Law and Practice of International Courts and
Tribunals, experienced practitioners, all negotiators and scholars are invited to submit
innovative proposals that go beyond the state of the art.
Extended abstracts – minimum of 1,000 words – or unpublished full papers
should be submitted to the editors (josealvarez.zarate@hotmail.com and
katiafachgomez@gmail.com) along with the author's name, affiliation and a CV that
includes the author's contact details.
All submissions and finalised papers must be written in English. Submission
for the Special Issue is incompatible with a parallel submission to a different publication.
The deadline for the submission of proposals is December 31st, 2016.
The special issue in The Law & Practice of International Courts and Tribunals will be
published in Spring 2018 (LPCT, Vol. 17, No. 1).