Register now: ESIL/ASIL Joint Conference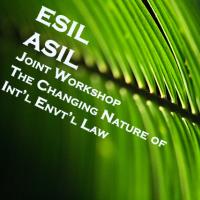 The Changing Nature of International Environmental Law: Evolving Approaches of the United States and the European Union
Joint Conference of the European and American Societies of International Law's International Environmental Law Interest Groups

Graduate Institute of International and Development Studies, 22-23 November 2013

The International Environmental Law Interest Groups of the American Society of International Law and the European Society of International Law are delighted to announce that their First Joint Conference will take place on 22-23 November 2013 in Geneva, Switzerland. The aim of the Conference is be to explore the changing nature of international law as it pertains to the environment, as well as to intensify the transatlantic debate about important legal issues in the field. The Conference will attract leading experts from various disciplines and backgrounds to discuss cutting-edge research in international environmental law.
The Conference will take place in the heart of Geneva and will be hosted by the Center for International Environmental Studies at the Graduate Institute of International and Development Studies.
For more information about the Conference, including the programme and conference theme, please visit the Conference Website.
Registrations are now open. Please note that places are limited, so register early to avoid disappointment.