ESIL 2020 Book Prize Online Event – Video now online! Copy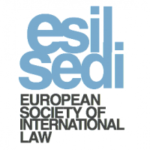 The ESIL Book Prize 2020 online event was held on Friday 2nd October 2020. 
The event was held as a conversation with the ESIL Book Prize 2020 winner, Dr Daniel Peat of Leiden University. Dr Peat's monograph, Comparative Reasoning in International Courts and Tribunals (Cambridge University Press, 2019), was selected from a highly competitive field by the Book Prize Jury, which for 2020 comprised Professor Erika de Wet (Graz), Professor Mathias Forteau (Paris Nanterre), and Professor Christian Walter (LMU Munich).