2021 Human Rights Essay Award Competition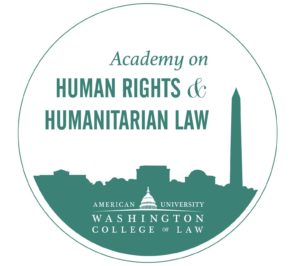 Submit your work to the 2021 Human Rights Essay Award Competition: The Human Rights Essay Award, sponsored by the Academy on Human Rights and Humanitarian Law at the American University Washington College of Law, seeks to stimulate the production of scholarly work in international human rights law. The topic of the 2021 competition is as follows: Human Rights and States of Emergency: Unexpected Crisis and New Challenges. Participants have the flexibility to choose any subject related to this topic, however, the scope of the submission must directly relate to this year's topic, or it will be disqualified. In addition, we would like to note we believe that international human rights law can be understood to include international humanitarian law and international criminal law. We will award two winners—one for submissions in English and one for submissions in Spanish—with a full scholarship (including lodging and transportation to and from Washington, D.C.) to complete the Certificate of Attendance or Diploma in the 2021 Program of Advanced Studies on Human Rights and Humanitarian Law which will take place from May 31 to June 18, 2021. The deadline to enter your submission to the Human Rights Essay Award competition is February 1, 2021. Please note that ONLY participants with a law degree are eligible to enter this competition. We look forward to receiving your submission!
If you would like additional information or have any questions, we invite you to contact us via email at humanrightsessay@wcl.american.edu.
This announcement is from the Academy on Human Rights and Humanitarian Law, an ESIL Institutional Member