OUP – International Women's Day 2019 Collection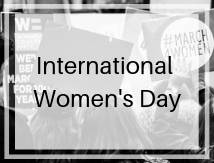 In celebration of International Women's Day and Women's History Month, OUP have made a range of related law materials free access.  Read four short pieces by Gina Heathcote, Sandra Fredman, Lisa McIntosh Sundstrom, and Valerie Sperling, reflecting on the importance of IWD and gender injustice, and explore the interactive Women in Law timeline.
The articles and selected book chapters included will be free to access until May 31, 2019. Explore the entire collection HERE.