New book – EU External Relations Law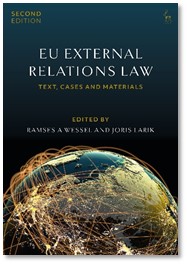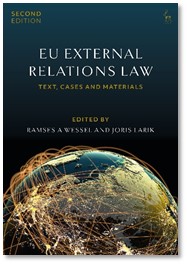 EU External Relations Law: Text, Cases and Materials
Edited by Ramses A Wessel and Joris Larik
The first edition of this seminal textbook made a significant impact on the teaching of EU external relations law. This new edition retains the hallmarks of that success, while providing a fully revised and updated account of this burgeoning field. It offers a dual perspective, looking at questions from both the EU constitutional law perspective (the principles underpinning EU external action, the EU's powers, and the role of the Court of Justice of the EU); and the international law perspective (the effect of international law in the EU legal order and the position of the EU in international organisations such as the WTO). A number of key substantive policy areas are explored, including trade, security and defence, police and judicial cooperation, the environment, human rights, and development cooperation. Taking a 'text, cases and materials' approach, it allows students to gain a thorough understanding of milestones in the evolution of EU law in this area, their judicial interpretation and scholarly appraisal. Linking these pieces together through the authors' commentary and analysis ensures that students are given the necessary guidance to properly position and digest these materials. Lastly, each chapter concludes with a section entitled 'The Big Picture of EU External Relations Law', which weaves together the diverse and complex materials into a coherent whole and stimulates critical discussion of the topics covered.
Ramses A Wessel is Professor of European Law at the University of Groningen.
Joris Larik is Assistant Professor of Comparative, EU and International Law at Leiden University.
Discount Price: £35.99
Order online at www.hartpublishing.co.uk – use the code HE6 at the checkout to get 20% off your order!

This announcement is from Hart Publishing, an ESIL Institutional Member