Prix de la Monographie
Prix de la Monographie de la SEDI
The deadline for submitting books to be considered for the 2022 Monograph Prize is 20 January 2022.
Please find the ESIL Monograph Prize Guidelines here.
Freya Baetens is the ESIL Board member coordinating the Prize; please contact her with any questions.
Prix du livre de la SEDI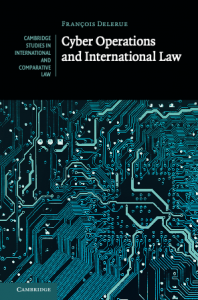 The 2021 ESIL Book Prize was awarded in September 2021 during the 16th ESIL Annual Conference in Stockholm to François Delerue for his book Cyber Operations and International Law (Cambridge University Press, 2020)
Jury's decision:
After deliberation, the jury selected three books that were considered to be the most serious candidates for the Prize. It finally decided by unanimity that the Prize should be awarded to Mr François Delerue's book Cyber Operations and International Law, published by Cambridge University Press.
The jury took particularly into account the originality of the work, the rigour of the analysis, its contribution to tackle a new problématique of international law and relations, the plurilingualism of the sources employed, the clarity of the text and the manner in which general international law is integrated into the reflection of the specific rules and practices governing the specific area.
The topic is very timely and of growing importance. It is indeed a field in which, for obvious reasons, specific regulations are only recent and scarce at the international level. Cyberspace in general and cyber operations in particular are tested against international law in a very comprehensive manner. The analysis refers to State conducted or sponsored cyber operations in particular, i.e. the use of cyber capabilities in cyberspace. The different spaces concerned, actors involved and the question of attribution, sources, evidence, legality and illegality of cyber operations, cyber "warfare" and its impact in different fields, responsibility, including the possibility to invoke circumstances precluding wrongfulness, possible remedies, everything is treated in a clear and concrete manner, with an appropriate critical apparatus employed.
In sum, Delerue's monograph is a stimulating book that will certainly be of interest not only in the academic world but also for those involved in the current discussions at different levels of this new and complex area of international relations.
Previous Book Prize winners: 
ESIL Book Prize 2020: Daniel Peat (University of Leiden) for  Comparative Reasoning in International Courts and Tribunals, CUP, 2019.
ESIL Book Prize 2019: John Linarelli, Margot E. Salomon and Muthucumaraswamy Sornarajah for The Misery of International Law: Confrontations with Injustice in the Global Economy, OUP, 2018, and Alejandro Rodiles for Coalitions of the Willing and International Law: The Interplay between Formality and Informality, CUP, 2018
Prix de la SEDI 2018: Dr. Guy Fiti Sinclair (Senior Lecturer at Victoria University of Wellington Faculty of Law) for his book To Reform the World: International Organizations and the Making of Modern States, OUP, 2017.
Prix de la SEDI 2017: Prof. James A. Green (Professor of Public International Law at the University of Reading) for his book The Persistent Objector Rule in International Law, OUP, 2016
Prix de la SEDI 2016: Dr Arnulf Becker Lorca (Visiting  Assistant Professor of Law, Jurisprudence and Social Thought at Amherst College and Postdoctoral Research Fellow at the Erik Castrén Institute of International Law and Human Rights at the University of Helsinki), Mestizo International Law: A Global Intellectual History 1842-1933, Cambridge University Press, 2015.
Prix de la SEDI 2015 : Dr Monica Garcia-Salmones Rovira (post-doctorante au sein de l'Institut de droit international et des droits de l'homme Erik Castrén de l'Université d'Helsinki), The Project of Positivism in International Law, Oxford University Press.
Prix de la SEDI 2014 : Sandesh Sivakumaran (University of Nottingham), The Law of Non-International Armed Conflict, OUP 2012 ; Ingo Venzke (University of Amsterdam), How Interpretation Makes International Law. On Semantic Change and Normative Twists, OUP 2012.
Prix de la SEDI 2012 : Michael Waibel (Lauterpacht Centre for International Law, University of Cambridge), Sovereign Defaults before International Courts and Tribunals, Cambridge University Press 2011.
Prix de la SEDI 2010 : Lorenzo Gradoni (University of Bologna), Regime Failure nel diritto internazionale, CEDAM 2009.
Prix de la SEDI 2008 : Matthew Craven (School of Oriental and African Studies, University of London), The Decolonization of International Law: State Succession and the Law of Treaties, Oxford University Press 2007.