European Journal Of International Law (EJIL)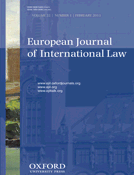 The European Journal of International Law is closely linked with the European Society of International Law. Members of the Society are offered an optional annual subscription to the Journal.
True to its name, the EJIL is distinctively European in character. Its perspectives are constructive and critical, theoretical and practical, topical and historical, reflective and provocative. Key features of the EJIL include regular symposia on important issues in the field, a forum for a US-European dialogue, an ongoing series analysing the contribution of major historical figures within the European tradition of international law, and in-depth review essays.
The EJIL website, which forms an integral part of the Journal, is an invaluable complement to the written text, opening its archives to the public, free of charge, just one year after publication. In addition, the EJIL blog, EJILTalk!, provides a forum for rich debate on all manner of topical issues of interest to international lawyers.
The EJIL is published by Oxford University Press. For more information about the journal, plus online access to current (and archive) content for both ESIL and library subscribers please go to: http://ejil.oxfordjournals.org/
The ESIL Board Member acting as liaison between ESIL and EJIL is Prof. Neha Jain.