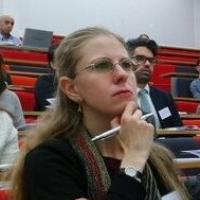 Institute of International Relations, Prague
Charles University in Prague
Current Research:
I am an associate professor in International Law at the Faculty of Law of the Charles University in Prague, the Czech Republic. I also coordinate a newly established Centre for International Law at the Institute of International Relations, Prague, which should host an ESIL symposium in spring 2017. Since 2010, I have represented the Czech Republic in the Venice Commission of the Council of Europe. Having a background in both law and political science, I like to combine theoretical research with a more policy-oriented approach. In my research, I focus on human rights, international humanitarian law, the use of force, fight against terrorism, and the theory of international law. In my policy-oriented studies, I concentrate on human rights and democracy promotion in foreign policy. I am a member of the EJIL Scientific Advisory Board and the rapporteur of the ILA Committee on Non-State Actors.
Key Publications:
2016 – Territorial (Se)Cession in Light of the Recent Events in Crimea. In: Nicolini, Matteo – Palermo, Francesco – Milano, Enrico (eds.): Law, Territory and Conflict Resolution. Law as a Problem and Law as a Solution, Brill/Nijhoff, 2016, 194–218.
2016 – La succession aux traités internationaux suite à la dissolution des fédérations ex-socialistes après 1990. In: Distefano, Giovanni et al. (eds.): La convention de Vienne de 1978 sur la succession d'États en matière de traités. Bruylant, 1809–1856
2015 – The Czech Republic. In: Kent, Roach (ed.): Comparative Counter-Terrorism Law, New York: Cambridge University Press, 457-482.
2015 – The Use of Force by the Russian Federation in Crimea. Heidelberg Journal of International Law (Zeitschrift für ausländisches öffentliches Recht und Völkerrecht), Vol. 75, No. 1, 27–50.
2015 – Symbols of Illiberalism in the World of Liberal States. Baltic Journal of International Law, Vol. 15, No. 1, 2015, 249–267
Armed Opposition Groups and Shared Responsibility. Netherlands International Law Review, Vol. 62, No. 1, 69–89.
2014 – Belligerent Reprisals in Non-International Armed Conflicts. International and Comparative Law Quarterly, No. 1, 1–35