2017 ESIL Book Prize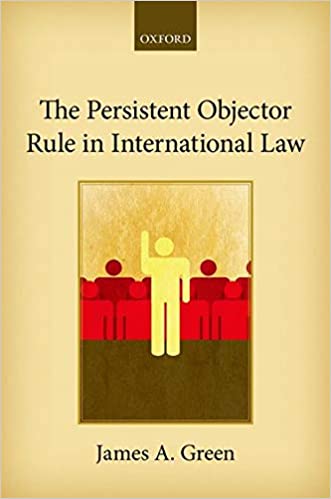 The 2017 European Society of International Law Book Prize jury unanimously decided to award the 2017 prize to Prof. James A. Green (Professor of Public International Law at the University of Reading School of Law) for his book  'The Persistent Objector Rule in International Law' published by Oxford University Press.
The ESIL Book Prize jury evaluated a wide range of books published in 2016 submitted for consideration by leading international law publishers. The jury members for this year's Prize were Helen Keller (University of Zurich), Antonello Tancredi (University of Palermo) and Karel Wellens (University of Nijmegen).
The jury explained their decision as follows:
This timely work provides us with the most detailed and meticulous understanding of the persistent objector rule – its four criteria and functioning – within the customary international law process. Throughout the author has skilfully and harmoniously interwoven doctrine, relevant jurisprudence – both international and domestic – and a surprising rich variety of state practice remarkably detected in various corners of international law. In a balanced way the author has also dealt with the limitations of the rule and its potential role for the global international legal order. James Green gives us a real life picture how the persistent objector rule actually works and this has not been done before. The high level of internal consistency, the convincing reasoning and the masterful use of the interplay between the two main sources of international law, a seductive and entertaining style all make James Green's work a fascinating monograph on an important topic of international law."
The ESIL Annual Conference in Naples in September 2017 included a conversation with the author about the prize-winning book, and the award was presented during the conference dinner.