2018 ESIL Book Prize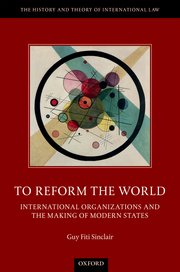 The 2018 European Society of International Law Book Prize jury unanimously decided to award the 2018 prize to Dr. Guy Fiti Sinclair (Senior Lecturer at Victoria University of Wellington Faculty of Law) for his book "To Reform the World: International Organizations and the Making of Modern States" published by Oxford University Press.
The ESIL Book Prize jury evaluated a wide range of books published in 2017 submitted for consideration by leading international law publishers. The jury members for this year's Prize were Sandrine Maljean-Dubois (Aix-Marseille University),  Ana Maria Salinas De Frias (University of Málaga) and Christian J. Tams (University of Glasgow).
The jury explained their decision as follows:
Guy Fiti Sinclair's book examines the expansion of powers exercised by international organisations under international law. The topic has been studied before, but Guy Fiti Sinclair approaches it in an innovative manner. He writes elegantly, and effortlessly straddles divides: between the doctrinal analysis of the law and reflective thinking about its role in international society; between big picture arguments and historical detail; between general concepts of international institutional law and the work of three very different organisations at different times, viz. technical assistance by the International Labour Organization, peacekeeping by the United Nations, and the World Bank's turn to governance. Above all, he persuasively argues that the different attempts to 'reform the world' through international action reflected an attempt to 'mak[e] modern states on a broadly Western model' of statehood, and that international law was a central part of that attempt. This is an important new perspective that enhances our understanding of the working of international law and of the relationship between international action and visions of statehood.
The ESIL Annual Conference in Manchester in September 2018 included a conversation with the author about the prize-winning book, and the award was presented during the conference dinner.