2021 ESIL Book Prize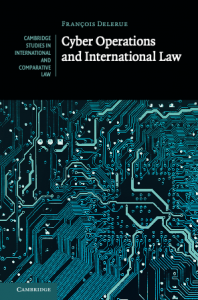 The 2021 ESIL Book Prize was awarded in September 2021 during the 16th ESIL Annual Conference in Stockholm to François Delerue for his book Cyber Operations and International Law (Cambridge University Press, 2020)
Jury's decision:
After deliberation, the jury selected three books that were considered to be the most serious candidates for the Prize. It finally decided by unanimity that the Prize should be awarded to Mr François Delerue's book Cyber Operations and International Law, published by Cambridge University Press.
The jury took particularly into account the originality of the work, the rigour of the analysis, its contribution to tackle a new problématique of international law and relations, the plurilingualism of the sources employed, the clarity of the text and the manner in which general international law is integrated into the reflection of the specific rules and practices governing the specific area.
The topic is very timely and of growing importance. It is indeed a field in which, for obvious reasons, specific regulations are only recent and scarce at the international level. Cyberspace in general and cyber operations in particular are tested against international law in a very comprehensive manner. The analysis refers to State conducted or sponsored cyber operations in particular, i.e. the use of cyber capabilities in cyberspace. The different spaces concerned, actors involved and the question of attribution, sources, evidence, legality and illegality of cyber operations, cyber "warfare" and its impact in different fields, responsibility, including the possibility to invoke circumstances precluding wrongfulness, possible remedies, everything is treated in a clear and concrete manner, with an appropriate critical apparatus employed.
In sum, Delerue's monograph is a stimulating book that will certainly be of interest not only in the academic world but also for those involved in the current discussions at different levels of this new and complex area of international relations.