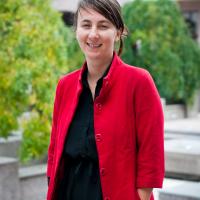 Koç University Law School
Interest Group Membership:
Current Research:
Başak's research focuses predominantly on international law and international institutions, with a special interest in international human rights law, its legitimacy and domestic effects. She has published on the interplay between international law and international relations, humanitarian intervention, the politics of human rights law-making, and the impact of international human rights law in domestic politics.
Dr Çalı is currently the lead principle investigator of a two-year research project on 'Domestic Effects of International Human Rights Treaty Ratification in the GCC Countries', the first human rights project of its kind funded by the Qatari National Research Fund. Other recent funded research includes principle investigator of a three-year ESRC-funded study of the legitimacy of the European Court of Human Rights and the enforcement of human rights judgments (to see results and output from this project see the project website) and as an expert on a British Academy-funded project studying the United Nations Universal Periodic Review.
Biography:
Dr. Başak Çalı is Associate Professor of International Law at Koç University, Turkey after transferring from University College London in 2013. At UCL she was senior lecturer in human rights and director of the MA in Human Rights. She a member of the executive board of the European Society of International Law where she is also the co-founding chairperson of its interest group on International Human Rights Law.
Dr. Çalı has extensive experience as an advisor, trainer and litigator in the field of international human rights law. She has worked with and advised governmental and non-governmental organisations, including the United Nations, the Council of Europe, the OSCE, NATO, Interights, the Aire-Centre and the ESCR-Net. She was a director of Interights and serves on the advisory board of the human rights think tank Universal Rights Group.
Başak has appeared as a commentator on international human rights law on the BBC and TRT – Turkey's public television. She has also written for Turkey's Radikal newspaper. She is currently litigating her own case before the European Court of Human Rights concerning women's right to identity.