Research Forum Workshop – ESIL IG on International Economic Law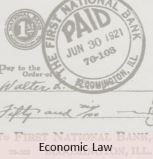 The ESIL International Economic Law Interest Group is organising a workshop on "The Value of Solidarity in International Economic Law", as a side-event to the 2021 ESIL Research Forum organised by the University of Catania. The workshop will take place online on Thursday 15 April 2021.
CALL FOR PAPERS (now closed)
PROGRAMME 
To attend this online workshop, please register via the Research Forum registration platform. The deadline for registration is 8 April 2021.