ESIL Teaching Corner – share your ideas with other ESIL members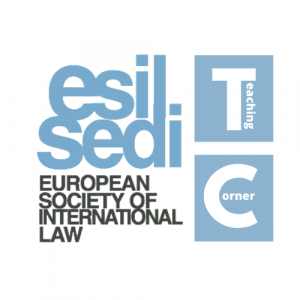 All ESIL members who teach international law are invited to share their syllabi with other members of the Society.
You just need to fill in the form below, giving basic information about the syllabus, and then upload the syllabus. You can choose to share materials in different languages, for different levels of courses (undergrad, postgrad, PhD), and for a law degree or an interdisciplinary degree. Your syllabus will then be sent to the editors of the Teaching Corner and it will be uploaded to the ESIL Teaching Corner within a few days.
We would be grateful if you were willing to support this initiative by sharing some of your educational resources with the Society. Your authorship of the files would obviously be recognised.
The ESIL Board Members in charge of the Teaching Corner are Adriana di Stefano and Evelyne Schmid.
READ MORE ABOUT THE TEACHING CORNER
If you would like to look at some of the syllabi already uploaded, please go to Search Course
If you have any difficulties uploading your materials, please contact esil.secretariat@eui.eu
Please note that the views, thoughts, and opinions expressed in the documents uploaded belong solely to the author, and not to the European Society of International Law or its Board. ESIL does not review any of the texts uploaded and cannot guarantee the quality of the syllabi.