Framing Convergence with the Global Legal Order – Hart Publishing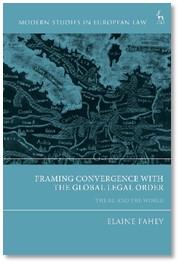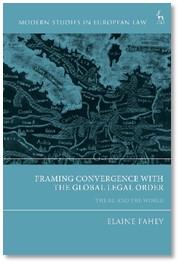 Framing Convergence with the Global Legal Order
The EU and the World
Edited by Elaine Fahey
This interdisciplinary book explores the concept of convergence of the EU with the global legal order. It captures the actions, law-making and practice of the EU as a cutting-edge actor in the world promoting convergence 'against the grain'. In a dynamic 'twist' the book uses methodology to reflect upon some of the most dramatically changing dimensions of current global affairs.
Questions explored include: who and what are the subjects and objects of convergence as to the EU and the world? How do 'court-centric' and less 'court-centric' approaches differ? Can we use political science and international relations as 'service tools'?
Four key themes are probed:
framing EU convergence;
global trade against convergence;
the EU as the exceptional internationalist; and
positioning convergence through methodology.
Elaine Fahey is Professor of Law at City University of London.
Oct 2020   |   9781509934379   |   336pp   |   Hbk   |    RSP: £85
Discount Price: £68
Order online at www.hartpublishing.co.uk – use the code UG6 at the checkout to get 20% off your order!

This announcement is from Hart Publishing, an ESIL Institutional Member