IG on International Criminal Justice | Online event on "Russian Aggression, the War in Ukraine and the Future of International Criminal Justice"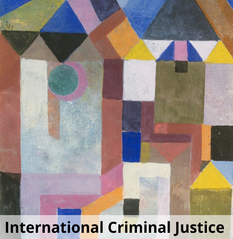 In November 2022, the Journal of International Criminal Justice (JICJ) published a symposium on Russian Aggression and the War in Ukraine (edited by Julia Geneuss and Florian Jeßberger), offering critical reflections on the ongoing war and international criminal law. The issue deals with several aspects, including Russia's memory laws justifying the aggression against Ukraine, the challenges and opportunities of domestic prosecution of international crimes in Ukraine, the digital documentation of international crimes, the use of the term "genocide" in relation to the situation in Ukraine, the double standards in the West's approach to international law, and the possibility of establishing a special tribunal for the crime of aggression.
One year after the full-scale invasion of Ukraine by Russia, and in light of the recent issuance of arrest warrants against Vladimir Putin and Maria Lvova-Belova for war crimes, the European Society of International Law's Interest Group in International Criminal Justice, in collaboration with the symposium editors and the JICJ, would like to invite you to an online event to revisit the symposium.
The programme for the event is as follows:
• Welcome by Moderator (Julia Emtseva, Max Planck Institute for Comparative Public Law and International Law)
• Introduction to the JICJ Symposium (Julia Geneuss, Humboldt-Universität zu Berlin)
• Legislating Propaganda: Russia's Memory Laws Justify Aggression Against Ukraine (Ilya Nuzov, International Federation for Human Rights (FIDH))
• Domestic Accountability Efforts in Response to the Russia–Ukraine War: An Appraisal of the First War Crimes Trials in Ukraine (Iryna Marchuk, University of Copenhagen)
• A Special Tribunal for the Crime of Aggression (Tom Dannenbaum, Fletcher School of Law and Diplomacy, Tufts University)
• Discussant (Alexandre Skander Galand, Maastricht University)
• Question and Answer session
• Wrap Up and Summation (Florian Jeßberger, Humboldt-Universität zu Berlin)
The event will take place on Monday 22 May 2023 from 14:00-16:00 CEST via Zoom.
Should you wish to attend the event, please register via this link.