Lomonosov Moscow State University wins the Russian National Championship of the Jessup Competition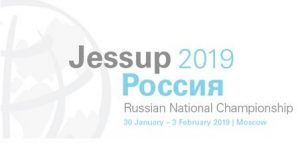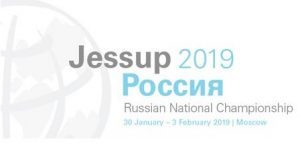 The Philip C. Jessup International Moot Court Competition is an advocacy competition for law students. Teams of law students compete against one another through the presentation of oral and written pleadings to address timely issues of public international law in the context of a hypothetical legal dispute between nations before the simulated International Court of Justice.
This year, 30 teams from all over Russia faced each other in Moscow for a chance to represent Russia at the International Rounds of the Competition.
The Lomonosov Moscow State University team became the National Champion of the 18th edition of the Jessup Russia Competition. Four teams will represent Russia at the International Rounds in Washington, DC between 31 March and 6 April 2019. They will compete with their peers from 100 countries for the White & Case Jessup World Cup.
This year the Russian Championship was hosted by the Law Faculty of Lomonosov Moscow State University and MGIMO with support from ABA ROLI, Pericles, Garant and Consultant Plus, Russian Law Journal, and the European Society of International Law (ESIL).