New EJIL Podcast | The Limelight on ESIL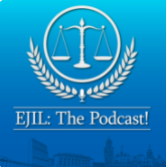 In this episode of the EJIL:Talk! podcast, Joseph Weiler is joined by Hélène Ruiz-Fabri, the current ESIL President Photini Pazartzis and Marko Milanovic, to discuss the EJIL's sister institution, the European Society of International Law (ESIL) – its foundation, mission, governance, and plans for the future, including the forthcoming annual conference in Stockholm.
You can listen to the episode here below and on the EJIL website.