2010 ESIL Book Prize
The 2010 ESIL Book Prize was awarded to Dr. Lorenzo Gradoni (University of Bologna) for his book Regime Failure Nel Diritto Internazionale (CEDAM, 2009).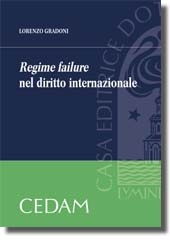 The jury members, Alain Pellet, Paolo Picone and Antonio Remiro Brotóns, praised the prize-winning book: "Le livre traite des conséquences d'une 'défaillance' (regime failure) du système des garanties spécifiques prévues par un régime se suffisant à lui-même. Dans ce cas, d'après l'opinion dominante, la lex generalis, qui donne des garanties plus efficaces, se trouverait à nouveau applicable. Le fondement juridique de cette solution serait toutefois peu clair. En effet la lex specialis est presque toujours muette sur la question du droit applicable en cas de « regime failure ». Fort de ce constat, l'auteur se livre à une enquête approfondie et originale sur le sens à donner au silence sur cette question, enquête conduite à la lumière de la théorie des actes linguistiques et des jeux de langage (l'auteur se réfère notamment aux écrits de John L. Austin, John Searle et Paul Grice). Ce faisant, le sens de ce "non-dit" est graduellement explicité à partir de l'exposé des conventions de langage implicites qui, à l'intérieur de la communauté des Etats, régissent les échanges linguistiques pertinents. D'après l'auteur, ces conventions linguistiques sont assimilables à des règles coutumières qui, souvent ignorées, permettraient de déterminer le sens ordinaire des mots figurant dans le traité à interpréter. Le contenu de ces règles est reconstruit sur la base d'une analyse minutieuse de la pratique étatique, surtout centrée sur les vicissitudes ayant conduit à la fin du GATT et à son absorption dans le régime juridique de l'Organisation mondiale du commerce (OMC) et, plus accessoirement (et superficiellement) sur les particularités du droit communautaire. Sur ces bases, l'auteur conclut que le silence sur la question du droit applicable en cas de regime failure devrait plutôt se lire comme excluant toute réintroduction unilatérale des modalités coutumières de réaction à l'illicite. Il critique en grands détails toutes les constructions doctrinales qui ont été (ou pourraient être) avancées en sens contraire et qui constituent l'opinion dominante, tout en admettant la possibilité que, dans quelques sous-systèmes, la solution négative qu'il prône pourrait être contrebalancée par des garanties d'un autre type (comme, dans le cas de l'OMC, par le biais d'un recours aux contremesures "collectives")".
The prize was awarded during the Gala Dinner at the 4th ESIL Biennial Conference in Cambridge in September 2012.