Rosenne's The World Court – What It Is and How It Works – Brill Nijhoff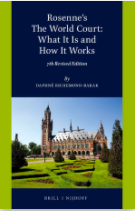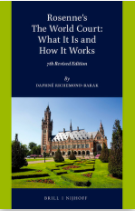 Rosenne's The World Court: What It Is and How It Works by Daphné Richemond-Barak
Richemond-Barak's book offers a contemporary and interactive take on the UN's main judicial organ. The International Court of Justice operates within a growing network of states and international bodies. The book analyzes the institution via the prism of its relationship with states – the Court's natural constituency – as well as UN organs, international and domestic courts, academia, and non-state actors. It offers topics for class discussions, moot court exercises, and model syllabi and helps uncover the Court's political and legal role in a complex international order. The book's novel and multidisciplinary approach make it an essential resource for students, teachers, and scholars.
This announcement is from Brill Nijhoff, an ESIL Institutional Member