2019 ESIL EVENTS An exciting year ahead!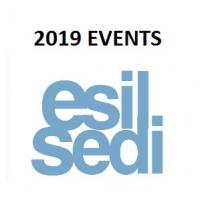 ESIL Research Forum, Institute for International Law and European Law, Göttingen: 'The international rule of law and domestic dimensions: synergies and challenges'. Göttingen, 4-5 April 2019
ESIL – ELTE Law School joint event:  'Attribution, causality and evidentiary rules: mere technicalities or the heart of the matter? Secondary rules of primary importance'. Budapest, 16-17 May 2019
ESIL – CJEU joint symposium: 'Adjudicating the International Responsibility of the EU'. Luxembourg, 14 June 2019
ESIL Annual Conference, Athens Public International Law Center at the National and Kapodistrian University: 'Sovereignty: A concept in a state of flux?'. Athens, 12-14 September 2019
More events are planned for 2019, stay tuned!