2020 ESIL Book Prize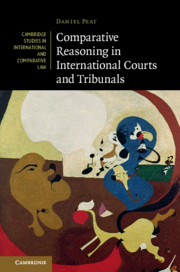 The 2020 European Society of International Law Book Prize jury unanimously decided to award the 2020 prize to Daniel Peat (University of Leiden) for Comparative Reasoning in International Courts and Tribunals, Cambridge University Press, 2019.
The 2020 jury members were: Erika de Wet (University of Pretoria), Mathias Forteau (University of Paris Ouest, Nanterre La Défense) and Christian Walter (LMU Munich).
Jury's decision:
The jury evaluated a wide range (13 in total, on very different topics) of books published in 2019 submitted for consideration by leading international law publishers.
The jury regrets that, while books can be submitted to the ESIL Book Prize in any European Language, only books in English were submitted. Given the nature of the ESIL, the jury paid close attention to the criteria of multilingualism with regard to the bibliographical sources of the books. The jury also favoured monographs above text books.
Each of the members of the jury read the 13 books and then collectively discussed the merits of each of them. The jury members were in agreement that four of the books in particular were strong contenders for the ESIL prize. Following deliberation, the jury decided to award the Prize to Daniel Peat's Comparative Reasoning in International Courts and Tribunals (CUP, 2019).
The book examines the practice of five international courts and tribunals (in different fields of international law: ICJ, WTO, Investment Arbitration, ECHR, ICTY) to demonstrate that domestic law is invoked to interpret international law in a way that is not necessarily foreseen by existing international rules of interpretation. Peat's book main virtue is that it draws new conclusions which are discovered behind well-known general issues. Practical examples used are of great relevance – even if the methodology that is followed, in particular in the selection of the said examples, could have been more clearly presented.
Peat's book is concise (a quality that the members of the jury found important) yet very substantial, innovative and highly stimulating. It is of great interest not only for the law and practice of international adjudication, but also for the theory of the sources of international law (general principles of law, relationship between domestic law and international adjudication, and relationship between comparative law and international law, which is a fascinating, emerging issue) and their interpretation. As such, it will provide any international lawyer with new insights and perspectives on core issues of general international law and will not doubt pave the way to future researches in the field.
The prize was announced during the 2020 ESIL General Assembly. A virtual celebration with the author was held on 2 October  2020. A video recording of the event is available here.