ESIL IG on Peace and Security Joint Conference | Partnered operations and international law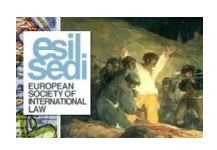 The ESIL Interest Group on Peace and Security, the ASIL Lieber Society on the Law of Armed Conflict, the Department of Legal and Economic Studies – Law School – of Sapienza University of Rome and the National Research Council of Italy (CNR) are organising a joint international conference on partnered operations and international law on 24 September 2021. The conference – hosted by Sapienza University – will consist of several thematic panels in which selected authors will present their work, which will then be discussed by distinguished experts.
The programme is now available!