Call for Papers – Interest Group on International Courts and Tribunals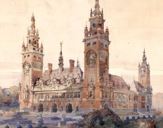 In the context of ESIL's annual meeting to take place in Stockholm in September 2021, the Interest Group on International Courts and Tribunals is organising a workshop on 'Public Interest Litigation:  The role of International Courts and Tribunals?'  The workshop will be held on 8 September 2021.
Public interest litigation represents a way for issues of broad public concern—such as genocide, torture, nuclear disarmament and climate change—to be the subject of adjudication before international courts and tribunals. Applicants who are not necessarily directly affected by the conduct at issue may nevertheless pursue litigation on behalf of the victims or injured state(s), as well as the larger international community. The victims themselves may be a very broad group or difficult to identify with precision. Historically speaking, international courts and tribunals have not necessarily been the fora of choice for actors seeking to litigate matters of broad public interest. In recent years, climate change litigation has played out in domestic rather than international courts. Yet, in January 2020, the International Court of Justice (ICJ) confirmed the admissibility of a contentious case with a clear public interest character (Application of the Convention on the Prevention and Punishment of the Crime of Genocide (The Gambia v Myanmar)). The Court's historical resistance to hearing such cases thus appears to be firmly a thing of the past (South West Africa). The ICJ is by no means the only institution capable of or willing to hear such cases, and this call for papers encourages proposals concerning a range of institutions, such as the regional human rights courts and other human rights bodies, the International Tribunal for the Law of the Sea, and inter-state arbitration tribunals.
Deadline for submissions: 30 April 2021