Online Conference – Interest Group on Social Science and International Law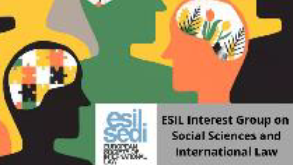 The conference on 'Sustainable Development and the Law: Potential and Challenges of Using Behavioural Insights' is the second event of the newly launched ESIL IG on Social Sciences and International Law. The conference will be held online on 23 and 24 September 2021. You can register here.
This conference brings together researchers from different disciplines including law, psychology, political science, and economics to explore the potential of using behavioural insights in law- and policy-making to promote sustainable development, as well as how to overcome the challenges associated with it. As such, it builds upon and informs current efforts by governments, the private sector, and, most recently the UN, to apply behavioural insights to regulatory interventions.