ESIL Newsletter – Spring 2022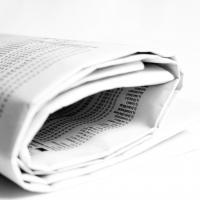 Editor: Sandrine Maljean-Dubois (University of Aix-Marseille)
In this issue
---
1. Message of the President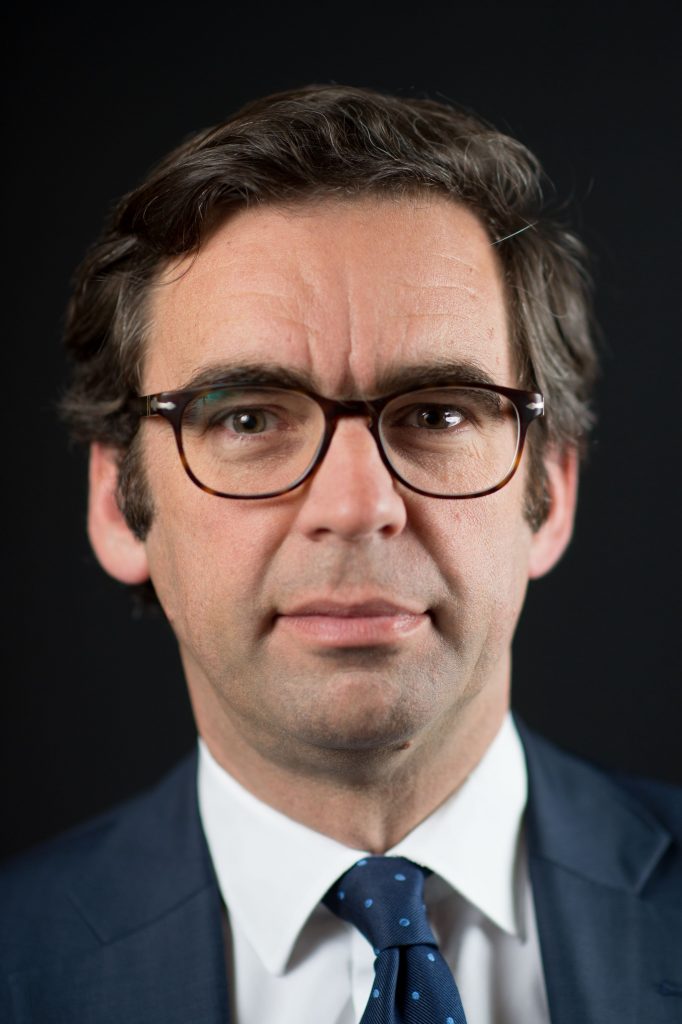 Dear ESIL Members,
I write these few lines as the aggression against Ukraine continues unabated. Horrific additional crimes are perpetrated and uncovered. The destruction of civilian infrastructure is massive and clearly intentional. War is waged with no mercy for the sole purpose of territorial aggrandizement and political subjugation. Each additional day of war makes the Russian aggression outstandingly unique in recent history.
Under its Articles of Association, ESIL's goals are notably "to contribute to the rule of law in international relations", to promote "greater awareness and understanding of international law not only amongst lawyers but within the general public" and to foster "a greater appreciation of the role of the European tradition and developing European perspectives in international law". Pursuant to these goals, ESIL issued a strongly worded Statement of condemnation on the very day of the Russian aggression. Much has been said and will continue to be said within our profession about the flagrant violations of international law by the Russian Federation and its leadership, and the need for accountability. As the demands of justice have rarely been higher, ESIL intends to contribute to the best of its capacity, now and in the years to come, to saving and rebuilding international law on our continent.
*
ESIL is also there to serve its members on a more concrete level: check our very recent ESIL Members' Book Launches initiative as well as the developments concerning the ESIL Early-Career Network—more about it in the weeks to come.
Pierre d'Argent
ESIL President
---
2. Guest Editorial by Samantha Besson: Equality for a lasting peace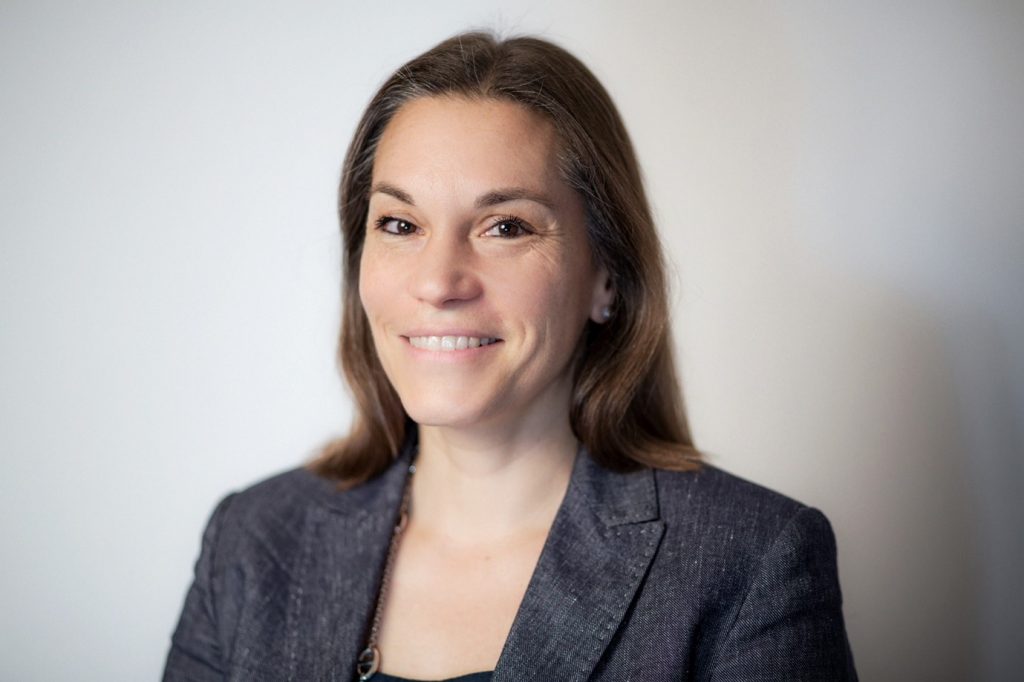 Samantha Besson
Russia's war of aggression against Ukraine is the real guest of this editorial, with all that it tells us about the state of international law in the spring of 2022. Admittedly, this is not the first conflict since 1945 that has bereaved the international community nor the first violation of the principle of the prohibition of the use of armed force by a permanent member of the Security Council. However, its specificities (geographical and cultural, of course, but also economic and military) mean that this war concerns us as European international lawyers.
This conflict leads us to review what we took for granted in the international institutional order, particularly the United Nations' collective security system. Above all, it encourages us to question what passed for irreducible components of this system, for lack of a will or at least of a sufficient majority for its reform. One will think here of the inequality of rights between States as the result of the recognition of permanent members and of their veto power by the Charter of the United Nations, the same charter which nevertheless places the sovereign equality of States at the very foundation of the organisation and its law.
Admittedly, the question of the representativeness of the Security Council has long been debated, as has the legitimacy of its decision-making procedures. However, with its attendant horrors and brutalities, a war is also a moment of truth. Sometimes it even offers the possibility of institutional reform. For as long as this war lasts (and the perspectives on the periods of war and peace during the last centuries are very different in Eastern Europe), it is a moment that should be seized. This moment is, in this case, the promise of a reinforcement of the equal representation of peoples and their equal participation within the universal organisation of States (whether this involves a reform of the United Nations or a new organisation).
Such a moment needs to be carefully prepared for, though, and it is up to us, as international lawyers, to get on with it now. Preparing for such a reform implies that we should not hastily modify the existing institutional order, with the risk of thereby jeopardizing the future of world peace and security. And yet, on closer inspection, this is what may already be happening. Indeed, instead of preparing the ground for a multilateral solution to the conflict and, ultimately, a better respect for international law and for the equality of States, including by Russia, the series of exclusions of this same Russia from universal and regional international organisations and their bodies precipitates (one could even say from a historical point of view, renews) its ostracisation. In this way, the very principle of the equality of States is undermined. If this principle is already moribund within most international organisations where institutionalized inequalities only call for others, it should be better enforced in the future. This principle protects both large and small States. If it has been laid at the foundation of the international legal and institutional order, it is precisely as an antidote to all kinds of imperialism, some of which are blaming each other today for the war in Ukraine.
The principles of human rights and democracy should also lead us to be more careful when it comes to the question of exclusion. In the case of organisations or bodies vested with a mandate to protect human rights, such as the Human Rights Council or the Council of Europe, the exclusion of Russia (even by an invitation to exclude itself) from these organisations or bodies amounts to the exclusion of a people's members from the equal right to have rights and from international mechanisms for the protection of individual rights which in principle cannot be suspended even in war time. Moreover, these exclusions are not unanimously agreed on. While a majority of States voted for them, it is nevertheless worth examining this majority and evaluating it from a democratic point of view. The States that abstained and those that voted against the exclusion of Russia from the Human Rights Council at the General Assembly on 7 April 2022 together represent more than half of the world's population, and entire regions at that. Even if these peoples are not necessarily democratically represented by the governments of the States in question, it would be regrettable, this time from the point of view of the equality of peoples and individuals (the equality of States, that of peoples and that of individuals are closely, albeit imperfectly, linked since 1945), not to take this reality into account.
Back in 1795, Immanuel Kant wrote that there could be no lasting peace based on the balance of powers – as opposed to equality between States. The two centuries that separate us from 1815 have proved him right. As we have just celebrated 70 years of the Charter of the United Nations, it would be good to "reaffirm faith" in the equal rights of its Preamble and art. 2(1) to hope, one day, when Russian armed aggression, crimes, and occupation in Ukraine cease, to resume the 1945 project of egalitarian re-institution of the peoples of the world under international law. And where better to begin this work, as European international lawyers, than within the European Union?
---
3. Meet an ESIL member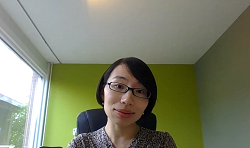 This is a new initiative for our members to get to know each other.
You can find the video introducing Machiko Kanetake, Associate Professor of Public International Law at Utrecht University, Netherlands, and member of the local organising team of this year's ESIL Annual Conference, here.
---
4. What's Going On?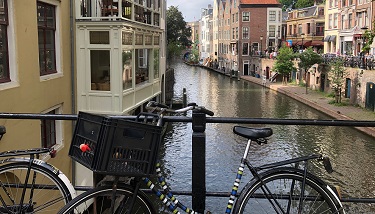 2022 ESIL Annual Conference in Utrecht – REGISTER NOW!

The 17th ESIL Annual Conference (1-3 September 2022) will be hosted by Utrecht School of Law in the Netherlands. The Conference will be preceded by 15 Interest Group workshops to be held on 31 August and 1 September. The theme of the Annual Conference is 'In/Ex-clusiveness of International Law'. While international law's problematic exclusiveness has been partly remedied, it is often acknowledged that various exclusionary factors are still unresolved, reproduced, or undetected on many fronts. Consider, for instance, representation and participation in the development of law, actors to whom accountability is rendered, the identification of right-holders and protected persons, economic ideologies that underpin law and institutions, and the legal construction of security threats. The conference is designed to foster insightful reflections on the historical, political, and economic baggage of international law. The organising committee members hope that the conference will generate critical, yet forward-looking, discussions among scholars, practitioners, and students.
Please visit the conference website here.
Registration is open – REGISTER NOW!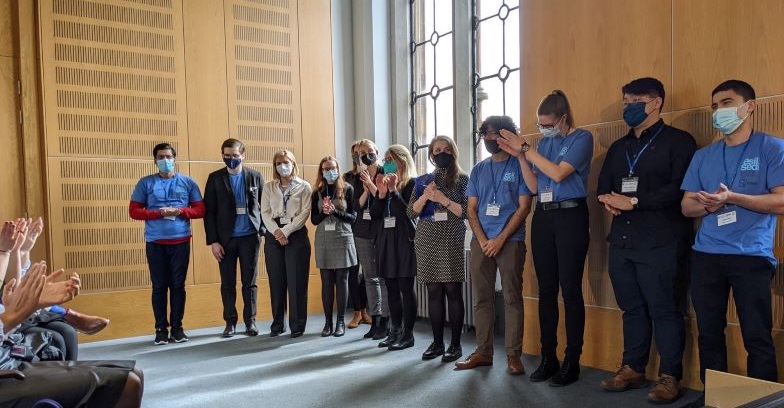 2022 ESIL Research Forum in Glasgow
The 2022 ESIL Research Forum was held in Glasgow from 31 March-1 April 2022 (and six ESIL Interest Groups met on 30 March for their pre-conference workshops). The ECR-oriented Research Forum titled 'International Law and Global Security: Regulating an Illusion?' discussed topical issues and had, amongst others, panels on cyber-security, economic security, security and human rights, and maritime security. In a rapid response panel on Ukraine, scholars from the affected region discussed both personal experiences and legal insights. Participants were also able to socialise, network and exchange ideas during a special session on engagement and mentoring for Early Career Researchers, as well as during the drinks reception and conference dinner. Thank you all for joining us in Glasgow and online, and for making it a success! A special thank you also goes out to our student volunteers!
Aleks, Héloïse, Jessica, Joanna, Pia, and Saskia (On behalf of the Organising Committee)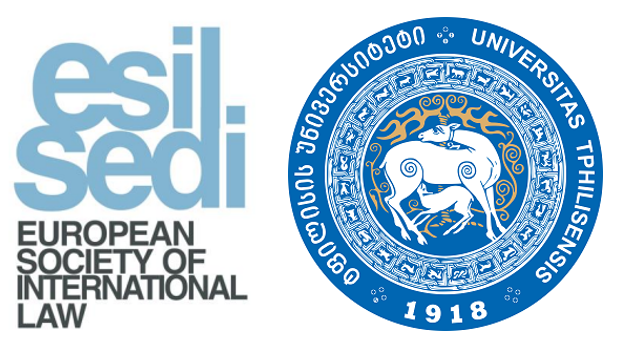 ESIL – Tbilisi State University Joint Conference: Call for Papers available!
ESIL and Ivane Javakhishvili Tbilisi State University are organising a joint conference in Tbilisi on "Emerging Issues of Relationship between International Humanitarian Law and International Human Rights Law" on 29 and 30 September 2022.
The call for papers is now available!
Deadline for submissions: 30 May 2022.
---
5. ESIL Diversity Advisory Body
At the General Assembly in Stockholm, the Board published its Statement of Principles on Diversity, Equality and Inclusion, in which it committed itself and the Society to fostering an environment in which all of its members could engage and collaborate in an inclusive setting. One of the key initiatives in this respect was the creation of a Diversity Advisory Body, which would be established to advise and to consult with the Board on how to adopt best practices in relation to upholding the values of diversity, equality and inclusion across its work.
After a call for interested candidates, which received a range of excellent applications from across the Society, the Board is delighted to announce that the Advisory Body will be composed of the following Members:
Cristiano d'Orsi
Machiko Kanetake
Bálint Kovács
Gail Lythgoe
Yusra Suedi
The Board is grateful to the five appointees and looks forward to working with them; and wishes to convey its thanks to all members who expressed interest in joining the Diversity Advisory Body.
---
6. ESIL Teaching Corner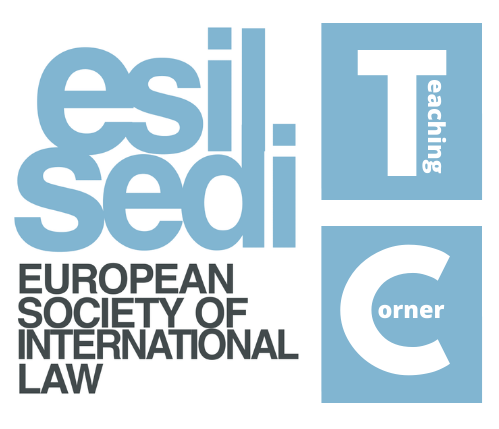 As an ESIL member, you have access to the ESIL Teaching Corner, which is an online resource for ESIL members to share syllabi, module outlines, reading lists, and other international law teaching materials and tools.
For more information on the Teaching Corner and how to use it, please visit this page. If you have missed our emails with the Teaching Corner credentials or are a new member and do not know the password yet, please contact esil.secretariat@eui.eu.
The latest uploads are:
---
7. ESIL Lectures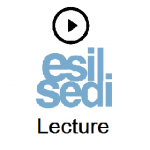 The recording of the latest ESIL Lectures by Prof. Jan Wouters, Director of Leuven Centre for Global Governance Studies and RECONNECT Coordinator, on the subject of "Enhancing the Rule of Law in the EU's External Action" is now available.
The lecture was held at the University of Granada on 18 March 2022 and it is now available on the ESIL YouTube channel here.
All previous ESIL Lectures are listed here.
---
8. ESIL Series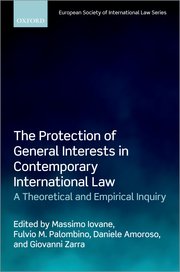 In 2017, ESIL and OUP established a book series to publish high-quality volumes on the themes of ESIL events. The most recent volume was published in August 2021, originating in presentations given at the Naples Annual Conference:
The Protection of General Interests in Contemporary International Law. A Theoretical and Empirical Inquiry (edited by Massimo Iovane, Fulvio M. Palombino, Daniele Amoroso, and Giovanni Zarra).
This follows Migration and the European Convention on Human Rights, edited by Başak Çalı, Ledi Bianku, and Iulia Motoc, which appeared in early 2021. (A video of a book launch is available here).
Further books are in the pipeline, including edited volumes on 'Secondary Rules of Primary Importance' and 'International Law and Universality'. For more information, incl. previously-published titles, please visit the Series webpage.
If you are interested in putting together a volume for inclusion in the series, please email the General Series Editor, Christian J. Tams (Christian.Tams@glasgow.ac.uk).
---
9. ESIL Paper Series
The ESIL Paper Series features papers presented at ESIL events (Annual Conferences, Research Forums, and Interest Group events). Publication in the ESIL Paper Series enables authors to disseminate their work widely and reach broader audiences without the usual delays involved in more traditional means of publication. It does not prevent the subsequent publication of papers in academic journals or edited collections.
The current Series editors are ESIL Board members Adriana Di Stefano, Evelyne Schmid and Catharine Titi.
ESIL Papers will be included in the EUI CADMUS Research Repository. The Papers presented at the 2021 ESIL Research Forum in Catania are now available!
For any enquiries or if you are interested in publishing in the ESIL Papers Series, please send an email to esil.papers@gmail.com.
NOTE:  Papers presented at ESIL Conferences from 2011 to 2019 can be downloaded here.
---
10. ESIL Reflections

ESIL Reflections offer up-to-date reflections on current issues in international law. The Reflections cover a wide range of topics relating to current developments in international law and practice as well as theoretical reflections in a way that is relatively accessible to non-experts. The aim is to foster discussion between ESIL members and international law scholars and practitioners more generally – in Europe, but also beyond. ESIL Reflections are published on this website and distributed freely to ESIL members.
The editors are Federico Casolari, Patrycja Grzebyk, Ellen Hey, Guy Sinclair and Ramses Wessel (editor-in-chief).
ESIL Reflections are short papers (3,000-4,000 words) that argue one particular point that may trigger further debate in the scientific community. Extensive referencing is to be avoided; references are only necessary in case of direct citations or when new or less well-known works are mentioned.
ESIL Members who have an interest in contributing are encouraged to do so. Please contact Ramses Wessel (r.a.wessel@rug.nl) if you would like to contribute.
Copying and reprinting of ESIL Reflections is permitted with due acknowledgement. In such instances, please state: (parts of) this article first appeared as an ESIL Reflection (volume x, issue x), published by the European Society of International Law, www.esil-sedi.eu.
Latest publications are:
---
11. News from Interest Groups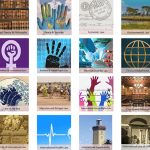 ESIL Interest Groups are a vital part of the Society's success and activities. A list of the groups is available on the ESIL website.
Interest Group on the History of International Law
On 30 March 2022, the ESIL HIL IG Pre-Conference Workshop "Regulating Global Security: History of an Illusion" was successfully held in a hybrid format in the framework of the ESIL Research Forum at the University of Glasgow, across three sessions with papers and comments delivered by Filip Batselé, Markus Beham, Martin Faix, Tamás Hoffmann, Nadia Kornioti, Max Milas, Nazım Sinan Odabaşı, Kirsten Sellars, and Ondrej Svacek.
The Call for Papers for the ESIL HIL IG Pre-conference Workshop "Histories of Inclusion / Exclusion in International Law" at the ESIL 2022 Annual Conference in Utrecht was open until 24 April 2022. Please, see the Call for Papers here.
Interest Group on International Environmental Law
The European Society of International Law (ESIL) Interest Group on International Environmental Law is organizing an interdisciplinary International Conference on "Liberalism and Ecology in the Anthropocene" to be held at the University of Messina, Italy, in collaboration with West Virginia University, USA. This event is supported by the ESIL Interest Group on International Legal Theory and Philosophy and by the Italian Society of Philosophy of Law (SIFD). Venue and dates: The international conference will take place in person, on the premises of the University of Messina, Italy on 30 June –1 July 2022. Applications: Applications can be submitted by 30 April 2022. You can find the information of the call for papers at this link  and as PDF file here.
The European Society of International Law (ESIL) Interest Group on International Environmental Law has published a Call for Papers for the Workshop "In/ex-clusiveness in the Energy Transition and Climate Action" organized as a pre-conference event in Utrecht on Wednesday 31 August and Thursday 1 September, prior to the Annual Conference of the European Society of International Law. The deadline for submissions was 25 April 2022. Please find further details in the Call for Papers here.
Interest Group on International Economic Law
We were really happy to welcome all speakers and attendees at the IG's workshop "International Economic Law and New Frontiers of Global Security" held on 30 March 2022 as a hybrid side event of the 2022 ESIL Research Forum in Glasgow. Thanks again so much to all the participants for excellent papers and insightful discussions! We have recently launched the call for papers for the IG pre-workshop that will take place at the ESIL Annual Conference in Utrecht on 31 August 2022. For all updates check regularly the ESIL IG's webpage!
Interest Group on on the Law of the Sea
The ESIL IG on the Law of the Sea held a pre-conference workshop on 30 March 2022 titled 'International Law of the Sea and Global Security: Regulating an Illusion?: A Roundtable Discussion'. This informal ECR-oriented meeting was organised within the framework of the 2022 ESIL Research Forum that was held in Glasgow. It was wonderful to see many 'old' friends and new faces and discuss our current research and developments in our field – thank you all for joining and we hope to see you at our future events! Anthi, Gabriela, Irini, and Jessica
---